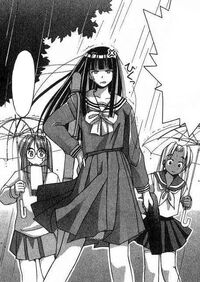 Japan introduced School Uniforms in the late 19th century. Today, school uniforms are almost universal in the Japanese public and private school systems. They are also used in some women's colleges. The Japanese word for this type of uniform is Seifuku (制服).
The Japanese Junior-high-school and Senior-high-school uniform traditionally consists of a military style uniform for boys and a sailor outfit (seasonal variations for summer and winter) for girls. These uniforms are based on Meiji era formal military dress, themselves modeled on European-style naval uniforms.
All schools have a summer version of their uniform (usually consisting of just a white dress shirt and the uniform slacks for boys and a reduced-weight traditional uniform or blouse and tartan skirt with tie for girls) and a sports-activity uniform (a polyester track suit for year-round use and a t-shirt and short pants for summer activities).
Gallery
Trivia
Despite it being three years since her graduation, Naru can still wear her Junior-high-school uniform.
Sometimes, Motoko trains in her sports uniform; as she does with Keitaro in Love Hina Again.
Community content is available under
CC-BY-SA
unless otherwise noted.