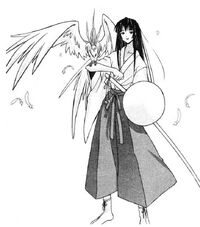 Shippu is a yellow crane that accompanies Tsuruko Aoyama in her travels as her avian companion.
As Motoko Aoyama succeeded in her struggles with her feelings towards Keitaro, Tsuruko intrusted Shippu to her; gaining a new, purple, crane named Hayate for herself.
Shippu would usually stand alongside Tsuruko or resting on her shoulder/extended arm while on Motoko Shippu would simply rest on her shoulder or head/hat when not in flight.
Gallery
Trivia
Shippu's appearance usually has three forms depending on the detail that Akamatsu wishes to draw her.
Ken Akamatsu explained in his notes that Tama, Kuro, Shippu, and Leon were inspired by the "Four Legendary Animals of Japanese Mythology"; Tama was inspired by Genbu, Kuro by Byakko, Shippu by Suzaku, and Leon by Seiryuu.
According to Love Hina Mugendai, Shippu is actually a paper golem known as a Shikigami. Her size changes depending on her master's power.
Community content is available under
CC-BY-SA
unless otherwise noted.