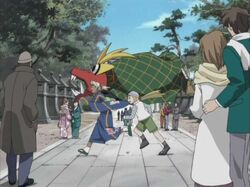 The Shishi-mai (Guardian Lion Dance) is a traditional dance in Japan in which performers wear a lion costume and mimic a lion's movements to music. The dance is usually performed as part of New Year's celebrations as well as other traditional, cultural and religious festivals. It may also be performed at many other important occasions such as business opening events, special celebrations or wedding ceremonies.
Based on the legends of the lion-like Komainu statues that stand guard at the entrances of or within the grounds of Shinto shrines to ward off evil spirits, there are a great number of different shishimai dances in Japan and the style of dancing and design of the lion differs by region but they all serve the same purpose to ward off evil and bring good fortune. At the end of the dance, the lion "bites" the heads of some watchers, to bring further good luck.
The lion costume mainly consists of a wooden, lacquered head called a shishi-gashira (Lion Head), and a "body" of green cloth with white patterns. It can be manipulated by a single person, or two to three persons, depending on the type of dance they wish to perform.
Gallery
Trivia
The dance is thought to have been imported from China during the Tang Dynasty, and became associated with celebration of Buddha's birthday before being aggregated into other celebratory festivals.
The lion dance is often mistakenly referred to as dragon dance. An easy way to tell the difference is that a lion is normally operated by two dancers, while a dragon needs many people. Also, in a lion dance, the performers' faces are only seen occasionally, since they are inside the lion. In a dragon dance, the performers' faces can be easily seen since the dragon is held on poles.
The oldest surviving lion mask, made of paulownia wood with an articulated lower jaw, is preserved in Japan.
Starting from the Edo period (1603–1868) other animals have been used as temple guardians, such as dogs, wild boars, tigers, dragons and foxes. In those areas the "lion costume" is designed to be these animal guardians. Like in Okinawa where the Shiisaa guardian guards the island instead of a lion and so all Shishimai dances use a Shiisaa costume instead of a lion costume.
Community content is available under
CC-BY-SA
unless otherwise noted.