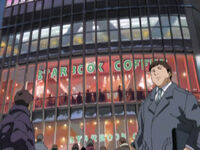 Starbook Coffee is a coffee shop franchise seen in Shibuya during the Love Hina X-mas Special: Silent Eve OVA.
Other Appearances
Negima! Magister Negi Magi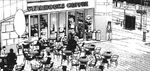 Main Article: Starbooks Coffee
A Starbooks Coffee shop in Mahora City is frequented by various pupils and staff from Mahora Junior High School.
UQ Holder!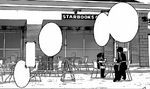 Main Article: Starbooks Coffee
During one of her reset lives, Kirie Sakurame and Kuroumaru Tokisaka spend some time at a Starbooks Coffee shop in New Tokyo before receiving word that Ikkuu Ameya and Touta Konoe were being attacked by Fate Averruncus.
Trivia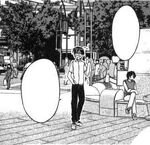 Starbook Coffee is a parody of the coffee franchise Starbucks Coffee.
The Starbucks store which was parodied as a Starbooks store in the Love Hina OVA overlooking the Shibuya scramble crossing is one of the busiest Starbucks stores in the world.
The location in Chapter 44, where Keitaro Urashima waits for his first date with Naru Narusegawa, is actually near a Starbucks coffee shop near the Keio Line Seisekisakuragaoka Station in real life. The location is used again in Negima! Magister Negi Magi Chapter 21 onwards as the location of a Starbook Coffee shop that the main characters frequent.
Community content is available under
CC-BY-SA
unless otherwise noted.