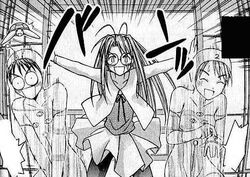 The Stealth Suit is a modified body-suit invented by Kaolla Su. Designed for stealth operations, the suit is favoured by Mitsune Konno to use in her schemes.
While the first suit was little more than a skin tight body-suit. The second and third suits possessed micro-sensors woven into the suit fibers that continuously collected environmental data and adjusted its appearance accordingly, like a chameleon's skin. Known as the Hinata 2000 Thermo-optics Camo Suit, Mitsune and Keitaro Urashima use the suits to sneak into Naru's room to read her diary.

Gallery
Other Appearances
Negima! Magister Negi Magi
In Negima! Magister Negi Magi Chao Lingshen and Satomi Hakase don 2003 Optical Stealth suits, property of the Mahora Engineering Club, to spy on the academy's magic faculty during the lead-up to the Mahora Academy Festival.
Trivia
In the Love Hina: Secrets at Hinata Hotel novel, Kaolla developed the suit further into a small device that the user could wear instead of a full suit. The device still functioned the same way as the suit. During the events of the book, Kaolla had developed three of these "Stealth Mini"s.
Community content is available under
CC-BY-SA
unless otherwise noted.