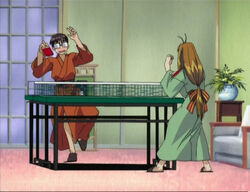 Table Tennis, also known as Ping-pong, is a sport in which two or four players hit a lightweight, hollow ball back and forth using table tennis rackets.
The game takes place on a hard table divided by a net. Except for the initial serve, players must allow a ball played toward them only one bounce on their side of the table and must return it so that it bounces on the opposite side. Points are scored when a player fails to return the ball within the rules.

Gallery
Other Appearances
Ground Defence Force! Mao-chan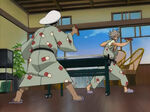 Trivia
Since 1988, table tennis has been an Olympic sport, with several event categories. In particular, from 1988 until 2004, these were: men's singles, women's singles, men's doubles and women's doubles. Since 2008 the doubles have been replaced by the team events.
Table Tennis is popular as a source of Fanservice in anime as the players usually play it while wearing Yukata, which have a tendency to open while they play and result in various wardrobe malfunctions for female characters.
Community content is available under
CC-BY-SA
unless otherwise noted.