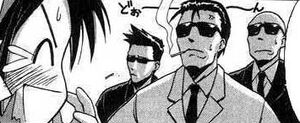 The "Thugs" are an intimidating group of men that make various appearances throughout the series of Love Hina, usually as random encounters.
Gallery
Other Appearances
Itsudatte My Santa!
Main Article: Thugs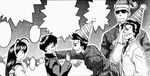 The thugs first appeared in the Itsudatte My Santa! manga as a group of random miscreants that end up beating up the story's protagonist for bumping them; causing them to drop their christmas cake.
Trivia
Haruka Urashima is acquainted with the group and had them temporarily run the Beach Café Hinata.
Going unnamed in Love Hina, their appearance in Itsudatte My Santa! revealed that one of the bald ones is named "Sabu" and their leader is named "Bro".
Community content is available under
CC-BY-SA
unless otherwise noted.