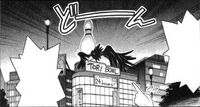 The Tori Bowl is a multi-story bowling alley that features a rooftop display of a bird and bowling pin.
Open 24-hours, the trio of Mutsumi Otohime, Naru Narusegawa and Keitaro Urashima come across it while looking for Mutsumi's apartment complex and decide to spend their time in the bowling alley while waiting for the next train.
Location Design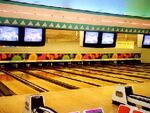 Torii Bowl is based on Parks Bowl, Kanagawa.
The train that Mutsumi noticed leaving near Tori Bowl was based on a rail near the Setagaya ward station in Tokyo.

Gallery
Other Appearances
Negima! Magister Negi Magi

Main Article: Tori Bowl (Negima)
In chapter fifty-five of Negima! Magister Negi Magi, Negi Springfield is taken to the Tori Bowl with some of his students; unknowingly becoming the target in a bowling competition between some of the girls to win the right to claim him as their own.

Trivia
Despite it being her first time at the sport and being extremely uncoordinated, Mutsumi gained a perfect 300 point score (Naru got 211 and Keitaro got 209).
In Japanese "Tori" means "Bird" (hence the image of a bird).
Community content is available under
CC-BY-SA
unless otherwise noted.