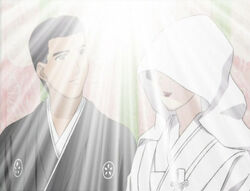 Tsuruko's Husband is an unnamed man whom Tsuruko Aoyama courted and eventually married. A warrior who is part of an organization of demon hunters, upon their marriage, Tsuruko was allowed to pass on the responsibilities of running the Shinmei-ryu Dojo to her sister, Motoko Aoyama. However, Motoko, upset over her sister's wedding and leaving the way of the warrior to become a housewife, refused to accept her inheritance and fled to live in Hinata instead.
In the anime, Tsuruko's husband became a key part of Motoko's psychosis against men and femininity as she saw her sister's example of leaving the dojo for love as a woman becoming weak. She also felt that the man had taken her sister, whome she had previously idolized, away from her.
Gallery
Trivia
In the anime, Tsuruko's husband is dubbed the "Daimyo" and is voiced by Shouzou Iizuka.
It is not known exactly what caused Motoko's fear of turtles; she may have been attacked by a turtle demon as a child and carries emotional scars from that event, however her sister thinks that her fear originates from when she once caught her and her husband (then boyfriend) in an "intimate moment" together. In Love Hina Mugendai Ken Akamatsu confirms the latter theory, stating that following an incident where Motoko had caught her sister having sex, Motoko became mortified and developed an aversion to turtles due to the head of a turtle looking like an erect penis.
Community content is available under
CC-BY-SA
unless otherwise noted.