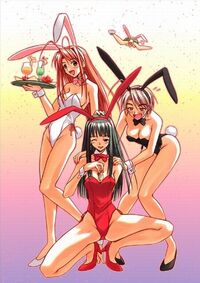 The Usagi to Kame, actually called the Rabbit and Turtle, is a themed Hostess Club that Mitsune Konno sometimes works for.
While attending clients, hostesses of the club generally wear Playboy Bunny suits, however, turtle-outfits also exist.
In Love Hina: Secrets at Hinata Hotel, Naru Narusegawa and Motoko Aoyama help Mitsune as hostesses for the club after Mitsune convinces them that the club's owner was considering suicide due to the club's poor sales. This was actually a lie.
Community content is available under
CC-BY-SA
unless otherwise noted.