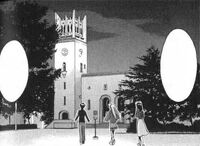 Waseda University (早稲田大学 Waseda Daigaku), abbreviated as Sōdai (早大), is a private university with it main campus located in Shinjuku, Tokyo.
As the second private university to be founded in Japan, Waseda University is considered to be one of Japan's most prestigious universities, consistently ranking amongst the top universities in Japan alongside Tokyo University and Kyoto University.
Established in 1882 as the Tōkyō Senmon Gakkō by Ōkuma Shigenobu, the school was renamed Waseda University in 1902 after the founder's home village. While much of the campus was destroyed in the fire bombings of Tokyo during World War II, the university was rebuilt and reopened by 1949 and has now grown to become a comprehensive university that includes 13 undergraduate schools and 23 graduate schools spread throughout separate campuses in various parts of Tokyo.
Location Design
Waseda University as it appears in the Love Hina manga is based on the real life location. The Ōkuma Memorial Hall (a three-story auditorium erected in memory of the university's founder) and the statue of Ōkuma Shigenobu (the university's founder) is commented on by Keitaro before he realizes that they aren't at Tokyo University.

Gallery
Trivia
Waseda University has many notable graduates; with seven Prime Ministers and many successful CEOs, including Tadashi Yanai; the wealthiest man in Japan.
The university's founder had long desired to create an academic cap so distinctive that someone wearing the cap would immediately be identified as a Waseda student. To this end, the chief tailor of the Takashimaya department store, Yashichiro, was called upon to design the new cap. Each square cap was stamped on the inside with the student's name, their department, the school seal and the legend, "This certifies that the owner is a student of Waseda". The cap, with its gold-braided badge, is now registered as a trademark for the university.
External Links
Community content is available under
CC-BY-SA
unless otherwise noted.