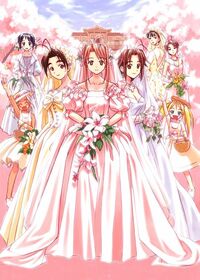 A Wedding Dress or Wedding Gown is the clothing worn by a bride during a wedding ceremony. In Western cultures, brides often choose a white wedding dress, which was made popular by Queen Victoria in the 19th century. In eastern cultures, brides often choose red to symbolize auspiciousness.
The opulent nature of the dress can be traced back to weddings performed during and immediately following the Middle Ages when marriages were often more than just a union between two people. They could be a union between two families, two businesses or even two countries. Many weddings were more a matter of politics than love, particularly among the nobility and the higher social classes. Brides were therefore expected to dress in a manner that cast their families in the most favorable light and befitted their social status, for they were not representing only themselves during the ceremony. Brides from wealthy families often wore rich colors and exclusive fabrics. It was common to see them wearing bold colors and layers of furs, velvet and silk. Brides dressed in the height of current fashion, with the richest materials money could buy. The poorest of brides wore their best church dress on their wedding day. The amount and the price of material a wedding dress contained was a reflection of the bride's social standing and indicated the extent of the family's wealth to wedding guests.
History
Pure white wedding dresses were not widespread, until 1840, after the marriage of Queen Victoria to Albert of Saxe-Coburg, where Victoria wore a white gown to incorporate some lace she prized. The official wedding portrait photograph was widely published, and many brides opted for white in accordance with the Queen's choice.
Even after that, for a period, wedding dresses were adapted to the styles of the day. This tendency to follow current fashions continued until the late 1960s, when it became popular to revert to long, full-skirted designs reminiscent of the Victorian era.
Today, Western wedding dresses are usually white though "wedding white" includes shades such as eggshell, ecru and ivory.
Gallery
Trivia
At Japanese weddings, brides will often wear three or more dresses throughout the ceremony and subsequent celebrations with a traditional Kimono, white and colour dress combination being popular. White is used, because in Japan it symbolizes death—in this case, the bride becomes dead to her family. The bride will eventually remove her white kimono to reveal another colored one—usually red—to symbolize her rebirth into her husband's family.
Many people assume that the colour white was intended to symbolize virginity, though this was not the original intention: it was the color blue that was connected to purity, piety, faithfulness, and the Virgin Mary.
Community content is available under
CC-BY-SA
unless otherwise noted.